To coincide with Philippe The Original and its monumental 110th-anniversary celebration, there will be an art exhibition by Gregg Gibbs titled "Sandwiches & Carvers".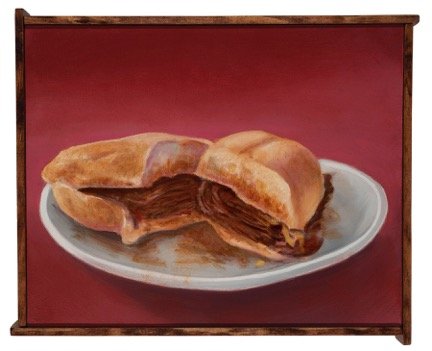 The opening reception will kick off Sept. 29 from 6 p.m. to 9 p.m. The main exhibit will be held at the restaurant during regular business hours from Sept. 29 to Oct. 6, 2018. The 110th Anniversary Celebration will be held Oct. 1 from 4 p.m. to 8 p.m. All events will be open to the public, although the upstairs exhibit will be closed during the anniversary party on Oct. 1.
"Sandwiches & Carvers" is an art exhibition by Los Angeles-based artist and filmmaker Gregg Gibbs, representing 70 oil-on-panel paintings of sandwiches, sides, and pies, along with portraits of the "carvers" who serve them such as 34-year veteran carver, Rosina.
The installation will occupy the second floor of the legendary restaurant Philippe The Original, birthplace of the "French Dip." Also included in the exhibition will be a shrine to the inventor of the sandwich, the 4th Earl of Sandwich, and a dedication to the late Pulitzer-prize winning food writer, Jonathan Gold.
This solo show represents realistic renditions based on formal qualities of common items often associated with lunch and available to order on the Philippe's menu. Inspired by classic still-life artists dating back to the Dutch masters and on to Chardin, Morandi and Wayne Thiebaud, Gibbs hopes to portray a nourishing aesthetic experience rooted in the eatery's storied lineage, in celebration of an important Los Angeles institution and its culinary significance.
As a third-generation Los Angeles resident, Gregg Gibbs has spent the last few years preoccupied with painting subjects such as sandwiches, potato salad, pickles and lemon meringue pies. He has exhibited his artwork in numerous galleries and museums throughout the past three decades.  In addition to solo shows, his work was included in "In the Land of Retinal Delights: The Juxtapoz Factor" and "The Shack Show" at the Laguna Museum of Art, "Mel's Hole" at Grand Central Art Center, and "Street and Low" at Robert Berman Gallery, among others.
His films include "I, Gauguin," which premiered at Calgary IFF, and "The Treasures of Long Gone John," which premiered at SXSW 2006 and MOMA, New York in addition to other venues worldwide.  He contributes to Juxtapoz magazine as a writer and filmmaker with subjects as diverse as "The Haunted Painting," Cheech Marin, Joe Coleman and Neil Young. He recently premiered his latest documentary, "Olompali: A Hippie Odyssey" at DocLands Film Festival 2018 in Mill Valley, CA.
Come in to celebrate the storied history of Philippe The Original and support local art. Enjoy delicious French Dips and sides and once you are done, head upstairs to gaze upon the work of an artist highlighting the restaurant's past and present.
Philippe's is also inviting the public to celebrate their 110-year milestone on Monday, October 1, 2018 from 4 – 8 p.m. The day's festivities include live entertainment, raffles, games, give-aways and the chance to enjoy a Beef, Pork, Ham, or Turkey Dip for only $1.10.
Philippe: The Original is located at 1001 N Alameda St., Los Angeles, California 90012.