February 3, 2017 Javier Cabral Vice
Founded in 1908, this restaurant is believed to have created the hot sandwich. It has survived through two world wars, The Great Depression, Prohibition, and even the extension of the Hollywood Freeway in 1951.
Philippe the Original is Los Angeles.
Ask any native Angeleno and they will agree, no matter what neighborhood they may have grown up in. The Chinatown coffee shop has become the official meeting place for people of all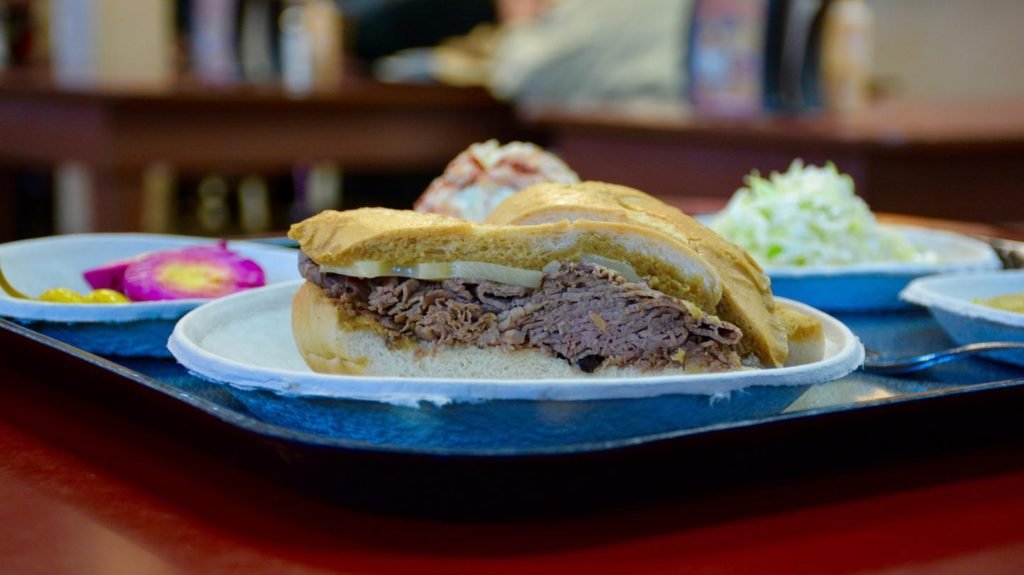 backgrounds, especially before a Dodgers game.
Founded in 1908, it's survived through two world wars, The Great Depression, Prohibition, and even the extension of the Hollywood Freeway in 1951. More importantly, it is believed to have invented one of the tastiest variations of the humble sandwich in existence after the original owner—a French immigrant by the name of Philippe Mathieu—accidentally dropped a French roll in a pan of beef drippings. The delicious result was a hot, French dip sandwich.
More than 100 years later after that delicious accident, the deli-style restaurant goes through more than 9,500 sandwiches on any given week. The restaurant's menu hasn't changed much since it first opened and the restaurant's management intends to keep it this way.
"The biggest decision we've had to make was when we increased the price of our coffee from ten cents to 45 cents," says Andrew Binder, the 28-year-old, fourth-generation managing partner of the iconic establishment. According to him, the sandwiches are still the same size as they were in the early 1900s and the au jus is prepared the exact same way: a proprietary two-day process that involves a whole lot of slow-roasted prime, bottom-round beef.
Binder's great-grandfather bought the business from Mathieu in 1927 and it has remained in his family ever since. His earliest memories are of playing with the sawdust scattered across the floor of the restaurant; the employees who used to babysit him now work alongside him.
As a lifelong expert on French dip sandwiches, Binder shared a few pro tips. First of all: Take it easy on their hot mustard on every table, because it is extremely fiery. Second, try to plan your visit around the Dodgers schedule if you don't want to wait in line. Third, there are three au jus dipping options for your sandwich: "single-dipped" for when you prefer a slightly lighter sandwich that will not be (deliciously) soggy at all; "double-dipped" for when you want both sides of the bread soaked in the drippings; and "triple-dipped" or "wet," which is the family favorite style of submerging the entire sandwich in the savory jus. Lastly, if you are taking your sandwich to go, you can order the jus "on the side."
Binder also recommends that you work your way up the ladder from the traditional roast beef with Swiss to the lamb and bleu cheese option.