It is with great sadness that we inform you of the passing of one of our Philippe's family members, Judy Young.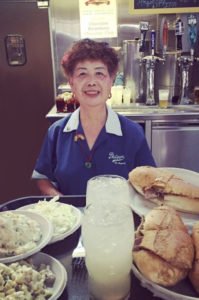 Judy passed away at her home in Atwater Village on Wednesday, Oct. 4.
Philippe's didn't just lose a 26-year employee, we lost an amazing woman who loved serving her customers, often showering them with gifts.
Judy was well known by many Philippe's patrons, some who would specifically get into her carver station line when visiting the restaurant.
She was a carver for her entire career, and was known by her co-workers and the Philippe's management team for her strong work ethic.
"Judy always told us Philippe's was her life, it kept her feeling young and happy," said Philippe's manager, Julia Tauscher.
Tauscher's sentiments are shared by the entire Philippe's management team who said they enjoyed seeing her warm smile and appreciated the enthusiasm she had for her job.
She is survived by her daughter, two sons and grandkids.
All are welcome to gather with Judy's family at her viewing on Friday, Oct. 20 from 4 – 6 p.m. at Universal Chung Wah Funeral Home, located at 225 N. Garfield Ave, Alhambra 91801.
Philippe's wants to honor and remember Judy. If anyone would like to share their memories of or with her, please feel free to post them on our Facebook wall or tag us on Instagram or Twitter, @philippetheog. We would love to read all your memories, and share some of them.
Save